Competitive Price.
Great Service.
Real simple.
Propane for Jacksonville, Daytona and St. Augustine Areas
Discover the Ideal Gas Difference
Unlike the mega propane gas companies that have thousands of shareholders to keep happy, we are a regional propane gas company that focuses on one thing, the customer. We aim to break the mold in the propane gas business and be the most transparent and dependable gas delivery company you have ever done business with. Break free from the fear and intimidation tactics other propane gas companies use. We can show you how.
Lean More
From Daytona to Jacksonville, including Flagler Beach, Palm Coast, and Green Cove Springs.
We sell, install and service residential customers who are tired of paying higher than average prices simply because they live in Florida.
Lean More
Have a restaurant, laundry, office building, manufacturing facility, or any other business? We can design, install, and service your location.
Our experienced and licensed service techs are capable of installing any job, big or small, and providing you with phenomenal service.
Lean More
If you need propane for your forklifts and your business is located in Jacksonville, Green Cove Springs, St. Augustine, Palm Coast, or Daytona.
We can help you maintain a reliable supply to keep your forklifts running safely and efficiently.
Lean More
Do you own a gas station, car wash, or other business and are you looking for a way to add to your bottom line?
We want to be your partner and help you grow your business.

Buddy stopped by randomly one day to ask me about our propane needs. He caught me at a good time so I chatted with him a bit. At the end of our conversation Buddy made the claim that he could save us money. I wasn't so sure, so I did my own research and as it turned out, he was right. We were paying too much. That combined with our previous company missing some deliveries and causing us to run out of fuel, was all the motivation I needed to switch to Ideal.

I didn't' realize that I was getting taken advantage of for years with my previous gas company. They charged me hazmat fees, delivery fees, and rental fees. In our gated community we had a supposedly discounted "fixed rate" of $3.10. As it turns out, this is no discount at all.
I'm glad I called Ideal because they don't charge all the extra fees and lowered my price per gallon. I'm paying almost a 3rd of what I was paying before.
I should have called Ideal along time ago!

I like working with family owned businesses like Grumpy's it feels good to be in a position to help someone in their business. Ideal is a small business too. It feels like we are doing our part to contribute to someones entrepreneurial dream.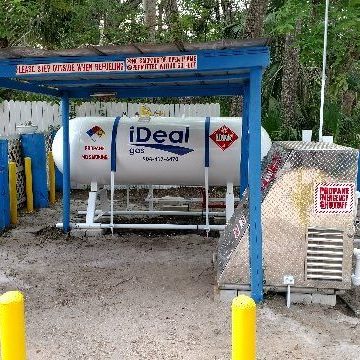 Customer Service
As simple as it sounds, we answer the phone with an actual human because we hate automated prompts as much as you do. Whatever your reason for calling, we will get you the answers to billing questions, scheduling deliveries, equipment issues or anything else that comes up. This is what Ideal customer service looks like.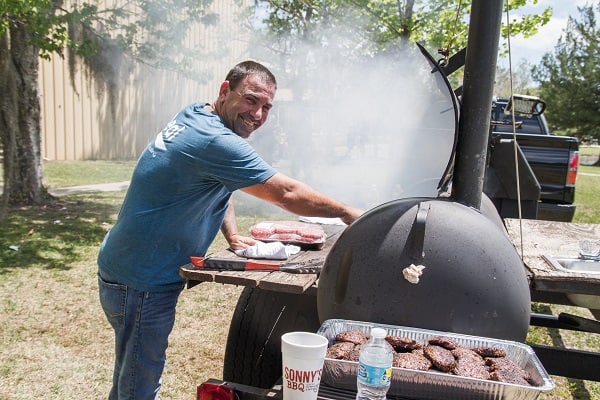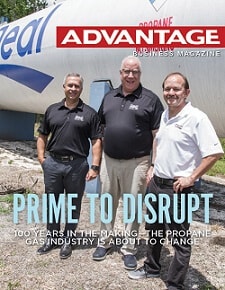 Advantage Business Magazine did a cover feature on us!
Looks like the word is getting out. Click to learn how we are disrupting an entire industry by doing business differently. Inside Leo, Michael and Doug discuss how the propane delivery business works and how normal business practices are not always in the best interest of the customer.  The trio explain how an informed consumer can ensure the best possible service and propane prices every time the tank is filled. 
Our Core Values
Simply put, its our core values that make us different from any other propane gas company. When faced with inevitable challenges, we reflect on our founders vision for what propane delivery should be. We put the customer first in all situations and always act in their best interest, even when its hard. We start every day with a commitment to delivering the very best experience possible for customers and employees alike.
Education Center
This is a great place to learn about how your propane prices are calculated and how propane gas suppliers operate. Our goal here is to educate the consumer and help you make better energy decisions. Arm yourself with this information and give us a call. Everyone wants to get the best propane price and service available. We can show you how. To stay in the know about propane in North Florida, be sure to leave us your email address so we can send you periodic value based information about how to get the very best deals and user tips.

In case you haven't heard, there is a new website that is uniting neighbors like never before. In the era of digital connectivity, Nextdoor.com is the modern-day equivalent of having an old-fashioned neighborhood block party where the conversation covers a variety of...